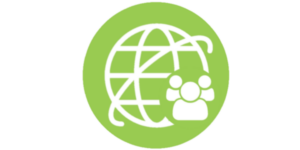 Inclusion means to appreciate and value human differences and variety of lifestyles in a rich and diversified environment that promotes a sense of belonging and where everyone feels respected and valued. In an inclusive community every member should feel safe, respected, and comfortable in being her / himself and express their identity. Inclusive communities create a welcoming environment, so that everyone's skills, creativity and innovation potential are recognized, cultivated and routinely utilized.
An inclusive community brings different cultural perspectives together in many contexts. For C3Places public spaces are the place where each person shares a sense of belonging with other members of the community. Therefore, appropriate spaces should be provided in order to generate mutual enjoyment and enhance citizens 'cooperation and also to redress policies and practices that perpetuate the harmful effects of discrimination and segregation.
In the digital era technologies are ever-present, so that we dare to speak about digital communities, inspired in Kenna & Maksymiuk (2019) who discuss some contrasting analyzes of the socio-spatial practices and impacts that are resulting from the uptake of new technologies in urban public spaces. Even a declining significance of public spaces in the digital era was predicted, a fact that the different examples addressed in Smaniotto et al (2019) have been proven wrong. ICT have potential to generate and increase social inequalities, as well as to offer new opportunities for encountering 'others' in the city. The design and structure of technological solutions can give impetus to the purposeful development towards community common good.
However, social values ​​of the citizens acting in a collective environment have to be aligned or coordinated. As Skarzauskiene et al. (2015) warns, if technological decisions are implemented without scientific reasoning in an immature environment, these technological solutions can accelerate negative aspects of ICT and distance even more from the desirable goal of an inclusive community.
Authors: Joana Batista, Inês Almeida, Carlos Smaniotto Costa, Marluci Menezes

C3Places Lisbon Living Lab allowed to reflect on the potential and bottlenecks in digital co-creation with teenagers. The labs revealed the importance, of clear messages, goals and expectations, shared from the beginning.

Such messages have to encompass what is going to happen, why is it happening, when each task has to be performed, which results are expected and what are the benefits for participants.

In Lisbon, the labs revealed teenagers' have a weak urban literacy and low spatial representation skills, and difficulties in identifying own needs and expressing ideas for public spaces, but the theme sparks interest in most of them and the interactive activities provide a forum for learning about urban space and share experience of teenagers use of space and needs.

For this reason is important to assess the knowledge, abilities and motivations of the target participants, and harness their full potential to actively participate in co-creation of public open spaces. To assess the success rate and overall satisfaction with the labs, a short questionnaire was distributed at the end of the last session asking students to indicate the perceived learning effect. The results flutuate between a high satisfaction and a disatisfaction, in line with the general observation made during all sessions; while a group of students showed interest and conducted lively the discussion, another small group remained apart, even not reacting to a direct request to express their ideas or opinions.

While in the questions related to personal experience with collaboration and exchange of ideas, the agreement with statements was low, the ones related to learning effect by taking part of the workshops the agreement was higher.

This can be analysed as a positive benefit for increased knowledge gained by this type of participative methodology.

In this respect, it is noted that the living labs were inserted in the daily school activities, and the school board selected the classes that participated in the two phases.

The willingness and readiness to get involve in digital co-creation may be different than when students can choose on their own to participate.

The second phase of labs with teenagers tested the potential of using digital devices in co-creation of public open spaces. Tablets were provided for the participants and facilitators recommended the use of digital tools for collection and discussion of ideas and general group work.

The use of this devices may be benefitial to allow for more interactivity in co-creation. For digital co-creation, devices and tools should be provided and integrated in the proccess, efficiently and logically.

In Lisbon, results highlight a important role of digital co-creation to increase the awareness on placemaking and provide opportunities for teenagers (and other groups) to discuss different needs on public spaces. That discussion is a crucial one in urban planning, since public spaces are common goods and everyone should be able and encouraged to use them and share them with others.